Library News and Events
Better Learning Through Science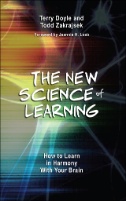 by Terry Doyle and Todd Zakrajsek
"New insights into how the human brain learns make it clear that many of the learning practices that faculty used in the past, and that students continue to use, are highly inefficient, ineffective, or just plain wrong. Better learning does not always require more effort or more time; rather one need only effectively align how the brain naturally learns with the demands of the college classroom. This book succinctly outlines several easily adapted changes that will significantly enhance your college experience by helping you learn how to learn in harmony with your brain.
"This brief book, based on what is currently known about how the human brain learns, will help you to change how you prepare to learn, make your learning easier and more effective, and more successfully recall newly learned material whenever you need it. Taking the time to read and reflect on the material in this book will be one of the best decisions you will have ever made as a learner. At this point you might be thinking, "There must be a million books out there about how to study and be successful in college." This is not a book designed to teach you specific study skills, learning strategies, or techniques for improving your attitude toward learning. This book instead explains research about how the human brain learns in a way that is easy to understand and act upon. This book gives you a foundation on which you can build study skills as needed, but with a much better understanding of why and how those skills can be best implemented. As just one example, did you know that neuroscientists have shown that understanding of new material and subsequent recall of that material is enhanced if you don't take classes back-to-back? The human brain needs downtime between different learning experiences in order to process and begin to make memories of the newly experienced material. The brain needs to work to learn new things, and we need to give it time to do that work. Neuroscientist Lila Davachi of New York University said, "Students would be better off taking a coffee break where they just chat with friends for an hour following a college class—it would actually be better for their learning" (Davachi, Tambini, & Ketz, 2010). Strategically implemented leisure time in which the brain is not processing a lot of new material, when not overdone, is actually an effective part of the learning process.
"The authors of this book have a singular goal for anyone reading or listening to this material: to better understand how you can learn how to learn in harmony with your brain. It is not difficult to make the changes suggested in this book. But it is critical. Becoming a skilled and efficient learner will be one of the most important determinants of what you can and will achieve in your lifetime. Our purpose in writing this book is to help you reach your full potential by providing you a simple way to understand the learning process. That simple way will allow you to get to places in your lifetime that people have not even dreamed of yet."--from the Introduction
Monday, September 28, 2015 - 10:34
New Database: JSTOR Arts & Sciences III
The library has added a new resource for articles on literature, art, and history: JSTOR Arts & Sciences III.
The JSTOR Arts & Sciences III collection includes journals in languages and literature, as well as essential titles in the fields of music, film studies, folklore, performing arts, religion, and the history and study of art and architecture. Additional interdisciplinary titles broaden the scope of coverage, and includes women's studies.
JSTOR (Journal STORage) is a consortium of appriximately 1,800 participating academic institutions, including the University of Buffalo. JSTOR presents the full text, in facsimile form (meaning scanned images of the pages as they appeared in print), of the complete back files of important scholarly journals, generally from the first volume through issues published prior to the most recent three years. Current issues are generally not available.
Tuesday, September 22, 2015 - 09:54
This trimester, Thursday night is popcorn night in the Library. Stop by for a bag of our freshly popped popcorn.
Monday, September 14, 2015 - 11:55